Ringmaster
NeptuneID13, in addition to performing Administrator (World Traveler) duties, helps with the day-to-day administration of the wiki by establishing the wiki rules and managing user rights.
Please consult their message wall if you have any problems to report.


Welcome to My User Page!
Hello! I'm NeptuneID13 and I first entered FANDOM in February/March 2017 ~
You can call me Neptune. If you need any assistance, please contact me on my Message Wall ~
I'm just a person who is a fan of stuff like dinos, plumbers, princesses of power, gemstones, steam engines, Casagrandes, veggies, and nautical nonsense.

Aside from those wikis, I also do minor touch-ups on wikis where I'm not as active much. ~
You can find me on the following Wikis where I have admin/mod rights ~


Wikis

Chico Bon Bon Wiki
Glitch Techs Wiki
Great Characters Wiki
Hero Elementary Wiki
It's Pony Wiki
Let's Go Luna! Wiki
Little Einsteins Wiki
Mira, Royal Detective Wiki
Molly of Denali Wiki
Ollie's Pack Wiki
PBS Kids Sprout TV Wiki
Ready Jet Go! Wiki
The Rocketeer Wiki
Rocko's Modern Life Wiki
Santiago of the Seas Wiki
Xavier Riddle and the Secret Museum Wiki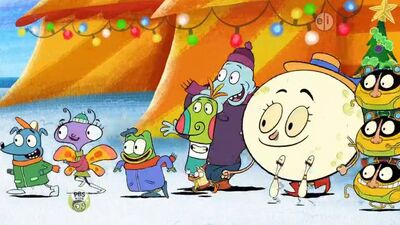 Alright, since I've become the admin for this wiki, I might as well update my profile.
I'm a big fan of this show, it's my 2nd favorite PBS Kids show behind Ready Jet Go. I like the series for its colorful visuals, catchy songs, clever jokes, and lessons about world culture. 
My favorite character is Senor Fabuloso, but I still like all 3 of the main kids and Luna. My favorite is episode is Not Home on the Range, although my favorite thing to come out of the franchise is the Christmas movie. My favorite songs is I'm Just A Jittery Jackaroo and I Will Paint A Mural.
As of November 5, 2019, I have reached over 1,000 edits on this wiki.
Community content is available under
CC-BY-SA
unless otherwise noted.