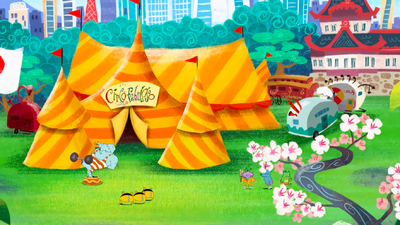 Circo Fabuloso (Spanish for "Fabulous Circus") is a circus that travels all around the world, and is the main setting of the show.
Leo, Carmen, and Andy's parents all work in the Circo. The Hoppers, Mrs. Mariposa, the Chockers, and Señor Fabuloso all live in trailers outside the circus tent.
Senor Moncarlo Fabuloso is the ringmaster.
Members
Affiliates
Luna the Moon - Earth's moon, who guides Leo, Andy, and Carmen on their trips during the daytime, and spends every night in the sky. Luna knows every person in the world, and is capable of using magic, though she prefers to keep this fact secret when in public. She suffers from an unusual weakness: happy music makes her dance uncontrollably, which can often devolve into chaos for those around her. Her catchphrase is, "...but remember, there's always tomorrow."
Characters
Circo Fabuloso
Leo Chockers • Andy Hopper • Carmen Mariposa • Honey • Magic Globe • Señor Moncarlo Fabuloso • Mr. Hockbar • Maria Mariposa • Wolfgang Chockers • Pippa Chockers • Mathilda Chockers • Luccie Hopper • Sam Hopper • Bon Jour • Au Revoir • Salami Strong • The Fearless Shrews • Acronauts • Ingrid Svenson-Benson • Chindra • Mr. Wrinkles • Dr. Bugman • Pablo • The Melvinis • Bob
Friends around the world
Outer Space:
Luna the Moon • Saturn
Antarctica:
Lil' Teeny • Penguins
Mexico City, Mexico:
Aunt Ceci • Diego • Julio • President of Mexico • Elena • Pico • Mr. Choco • Fernando • Manny • Rosa • Abuela Mariposa • Maestra Amalia • Chicas Picantes
Moscow, Russia:
Nikoli • Marta • Igor • Ivan Petrovski • Viktoriya Durov • Boris Durov • Vlad Durov • Madame Petrovski
Cairo, Egypt:
Ali (Egyptian) • Leyla • Dr. Rana • Hakim • Nabeel • Leyla's Mom • Sukkar
Beijing, China:
Bao • Fong • Mr. Zhao • Panda Drummer • Laohu • Liu Min • Liu Min's brother • Li Wei • Basketball Hoop
London, England:
Emma • Cap'n Shaggybottom • Cappy • Nigel • Mr. Wigglewalker • Baby Winthrop • Mr. Nigel
Delhi, India:
Aman • Gaja • The Monkeys • Rhino Lady • Sunil • Anita • Riya • Yash
Sydney, Australia:
Gelar • David • Marty • Uncle Crusty • Britt • Finn • Auggie • Brawn Brothers • Bazzle • Syd and the Sydneys • Ted • Screwball
Tokyo, Japan:
Fuujin • Hana • Hideki • Hiro • Ishiro • Jiro • Lionel • Momo
Istanbul, Turkey:
Ahmet • Ali (Turkish) • Firefighter Timur • Kedi • Serhat • Yusuf
Paris, France:
Bernadette • Bon Soir • Bon Nuit • Chef Rene • Elodie • Georges • Julien • Marcel • Non • Ogo • Oui • Jacques
Rio de Janeiro, Brazil:
Antonio • Dr. Flavio • Pablo • Raquel • Vitoria
Munich, Germany:
Accordion Hans • Franz • Freddi • Friede • Johanna • Klaus
Nairobi, Kenya:
Akeyo • Courtney • Maktao • Mukandi • Nairobi Watchers Club • Richard • Silas
Juneau, Alaska:
Bo • Grandma Rita • Hannah • James • Mo • Mr. Salmon • Mr. Soupy • Polar Bear • Polar Bear's son • Skye
Barcelona, Spain:
Augusti • Don Magnifico • Eva • Eva's Parents • Fabuloso's Dad • Fabuloso's Mom • Giant Wave • Iker • Ramona • Santi Salamander • Silvia • Small Wave
New Orleans, Louisiana:
Bessie • Dexter • Dr. Paloma Batiste • Fred • Remy • Skwiggle Man
Cusco, Peru:
Beto • Ernesto • Gabriela • Horacio • Lucio • Sisa • The Potato King
Bangkok, Thailand:
Dao • Anurak • Arun • Patra • Lek • Prawit
Rome, Italy:
Capicola and Pancetta • Gina • Giovanni • Matteo • Mortadella • The Aqua Ducks • The Singing Fish
Reykjavik, Iceland:
Erik Leifson • Faxi • Gunnar the Great
Kumasi, Ghana:
Akua • Kwadwo • Kwaku • Kwame • Yaw
Boston, Massachusetts:
Betsy • Dave • Ms. Anderson
Buenos Aires, Argentina:
Hilario • Toncho • Alberto
Polynesia:
Aito • Fetu • Manu • Natia • Rangi
Edinburgh, Scotland:
Angus • Gordon • Muddybottom
Geneva, Switzerland:
Barry • Persnickety Precise • Mia
Others:
Astrid Svenson-Benson • Big Ben • Bob • Grumpa • Harvey • Karlton Svenson-Benson • Katimone Everquest • Kimmy and Billy • Tio de Nadal