"When a group puts their head together, they can create remarkable things!" ― Luna the Moon
Andy's Big Show is the first segment of the 26th episode in season 1 of Let's Go Luna!.
Synopsis
On a quest to make really big art, Andy helps to design a Rio Carnaval float.
Characters
Broadcast
Andy's Big Show, along with its sister episode Leo Moves It aired in Canada on September 10, 2019 on Knowledge Kids.
In the United States, the episode premiered on PBS stations at 9:30 AM EST, and then on the PBS Kids 24/7 channel on November 5, 2019, at 5:00 PM EST.
Trivia
This episode takes place a day before Leo Moves It.
For some reason, Luna's singing in this episode and Leo Moves It is done by Erin Fitzgerald.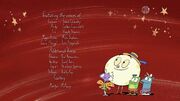 In this episode, the kids sing to a painting of Luna on a wall. After they finish, the real Luna appears.